Ford West Leadership Academy
JANUARY 15 - 18, 2024 | Houston, Texas
The Academy will expose industry employees to all facets of the fertilizer supply chain, grow their technical and soft skills, ensure transfer of industry knowledge from current leaders to future leaders, and equip participants with essential tools for professional success, as well as increase networking and comradery among its participants.
This program is not intended to replace company-specific training, but rather compliment. It provides professionals with the opportunity to encounter various perspectives and comprehensive knowledge of how their role in their company aligns into the broader industry. Additionally, it allows emerging leaders to establish their professional network within the fertilizer industry.
Audience
High-performers in mid-management level positions and/or new to industry employees across the entire fertilizer supply chain and within every function of a company (i.e. operations, sales, warehousing, finance, human resources, logistics, business development, etc.).
This prestigious program is named in honor of the esteemed Ford West, former CEO & President of TFI, whose unwavering dedication and profound commitment to our industry and Foundation will forever be remembered.   
Please email Valerie Sutton with registration questions. 
CONFERENCE FEES 
Member Registration Fee: $3,500 USD per attendee              
The registration fee includes: 
Participation in all leadership academy sessions 
Participant workbook 
Participant resources for post-event use 
Networking events on Tuesday and Wednesday 
Breakfast on Tuesday and Wednesday 
​Lunch on Tuesday and Wednesday 
PAYMENT OPTIONS 
Credit Cards: We accept Visa, MasterCard, and American Express. Please provide your credit card number, expiration date, and credit card billing address. All credit card transactions are processed in U.S. dollars and subject to the current U.S. exchange rate.   
International Attendees: For international attendees wishing to pay by another payment method, please contact Valerie Sutton at [email protected]. Please note: The Fertilizer Institute is not responsible for foreign check or wire transaction processing fees not included in the actual transfer. Attendees will be required to pay the fee if the check is not drawn on a U.S. bank or if a wire transaction processing fee is not included in the actual transfer. 
Cancellations 
Cancellation requests must be received by TFI no later than December 15, 2023 in order to receive a full refund, less a 25% administrative fee. No refunds will be granted after this date. Substitutions are welcome, but there will be no refunds for no-shows. Refunds for those who paid by check will be mailed two weeks following the conference. 
Registrations are not official until payment is received. A list of all registered delegates will be provided to registered and paid attendees only. Please note that your name, company, address, and email will appear exactly as you have indicated on your registration form. A final list of registered delegates will be available on the conference mobile app. No additional list of attendees will be provided during or after the conference. 
Dress Code 
Business Casual 
Terms & Conditions 
The TFI Registration Terms and Conditions apply to all registrants and your participation in the TFI Event (both in-person and virtual), regardless of whether your registration is submitted by you or your proxy. By registering, you accept these terms and conditions. 
Industry Facility Tour (Optional)
HOTEL INFORMATION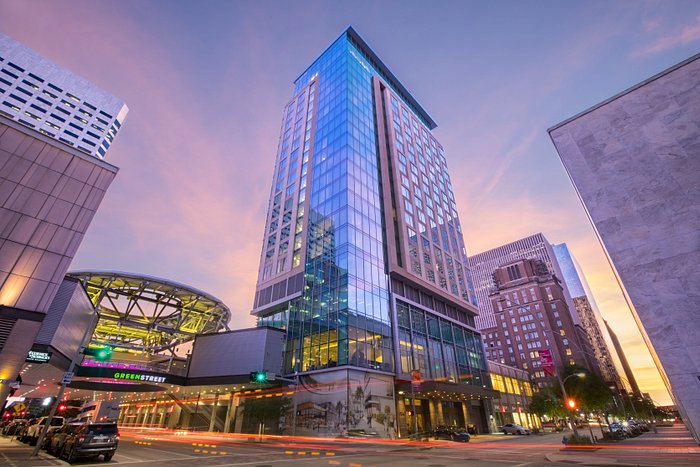 The Laura Hotel
1070 Dallas Street 
Houston, Texas 77002 
Reservation Cut-off Date: December 26, 2023. 
ROOM RATES: 
Single/Double Occupancy:                 $199/per night 
(plus applicable taxes) 
Please note: You must be registered for the Ford West Leadership Academy to secure a discounted guest room. Once you register for the conference a web-based reservations link and telephone number will be provided in your confirmation email. Room rates do not include tax.  
Hotel Cancellation Policy 
Guest Room cancellations must be made no less than 48 hours prior to arrival. Any reservation that is not canceled and does not arrive will be charged one (1) night's room and tax to the guaranteed method of payment on the reservation. 
Beware of Housing Pirates 
Please make sure to book your hotel directly with the Laura Hotel. Beware of companies misrepresenting themselves as affiliated with TFI or the Ford West Leadership Academy as TFI will not be able to assist you with any housing problems with reservations made through a third party. If you have further questions or concerns please contact Tiffany Ballow, Event Manager, [email protected]. 
The Ford West Leadership Academy sessions are designed to be participant-centered, engaging experiences, rather than lectures. Participants will have the opportunity to discuss topics and share their experiences with their peers alongside the guidance of an industry professional serving as a facilitator. These learner-centered sessions focus on real-world experiences and situations to maximize retention and application of the material. 
CURRICULUM OUTLINE BY SESSION 
Fertilizer 101: This session will establish a baseline understanding of the value, needs, concerns, and placement of the fertilizer industry in global agriculture. By the end of the session, co-hort members will understand the purpose and types of fertilizer, be able to describe the connection between soil health and nutrient management, explain the NPK cycles, understand how fertilizer is manufactured, and visualize the global supply and demand impacts of fertilizer.   
Agronomy and Stewardship: The session covers the nutrient lifecycle, 4R framework, basics of agronomy, and answers the question, "Why is fertilizer important in feeding the world?" Participants will be able to explain the 4R Nutrient Stewardship framework and how it is used within the fertilizer industry, provide examples of how to implement the 4R Nutrient Stewardship framework, and apply their newfound knowledge of the 4R Nutrient Stewardship framework to their individual job functions. 
History of Fertilizer: This session shares how major events have shaped the fertilizer industry over time, and why it is important as a leader to study these events in preparation for those to come. Attendees will be able to identify major milestone events that shaped the fertilizer industry, articulate how both domestic and global events have an impact on the fertilizer industry, and better anticipate how major events or breakthroughs may impact the fertilizer industry.  
Advocacy: This session will provide the supports and resources to craft a short advocacy elevator pitch. Build an initial draft in the session, then practice it at the evening networking event! The goal of the session is for participants to become advocates for the fertilizer industry by creating a 30-60 second elevator speech to use in a variety of professional situations. In addition, participants will know where to find more information about fertilizer industry key topics and issues to be better equipped to speak to those topics/issues, and practice delivering their elevator speech out loud and in front of their colleagues.  
Sales and Business Development: Participants will hear about the importance of relationships in the fertilizer business. Emphasis will be placed on sales goals and theories such as, "We aren't here to sell tons; we are here to make a profit." The panel discussion should also discuss current Innovation(s) in the business development sector of the industry and its importance. The session will help attendees see the value of human relationships within a sales role, understand the connection between sales and business development, and recognize the unique nature of sales/business development in agriculture.  
Crisis Management, Safety and Security: This session prioritizes the discussion of "hot topics" on safety and security. Participants will work through a case study on Crisis Management and creating a culture of safety. After participating in this session, participants will be able to: Identify the effects major crises have on the overall industry and individual companies, consider ways to better prevent such events from happening, articulate what it means to have a Culture of Safety, plan for ways to better prepare themselves for crisis situations and to better prevent such situations as leaders in the industry. 
The Essentials of Finance: This session discusses how companies make money in the fertilizer industry. Participants will learn about the common financial tools and systems such as P&L and EBITDA. After participating in this session, participants will be able to: Understand how companies in the fertilizer industry make money and key financial issues pertinent to the fertilizer business, identify important financial documents and terms, plan for how to increase their understanding of finance in the fertilizer business. 
The Future of the Fertilizer Industry: The session discusses the future of the fertilizer and agriculture industry and what needs to change in order to meet global needs. In this session, participants will share examples of how the agriculture industry is expected to evolve in the future in order to meet food production and environmental needs, and recognize how the fertilizer industry will evolve over the next 5 to 10 year and their role in that evolution. 
The Ford West Leadership Academy Steering Committee directs the content and curriculum of the Academy. The steering committee is comprised of a cross-section of companies and individuals with varying skills and experiences in the fertilizer supply chain. Inaugural steering committee members are as follows: 
Roger Baker, CHS 
Paul Barr, Winfield United 
Marcie Booth, Koch 
Matt Brown, Landus 
Kim Colvin, Quad Chemical 
Mindy Dale, The Mosaic Company 
John Fowler, Nutrien 
Bert Frost, CF Industries 
Premjit Halarnkar, CH Biotech 
Mary Hartney, FFAA 
Kala Kilworth, Simplot 
Josh Long, American Plant Food Corporation 
Tim Mahoney, IRM 
Sean McCarty, Helena Agribusiness 
Lisa Nguyen, TKI 
Jacob Schreve, Helm 
Sarah Terrell, Trammo 
Jacob Winans, Brandt 
Courtney Yuskis, Yara 
For more information and to get involved in future years, please contact Harriet Wegmeyer ([email protected]).